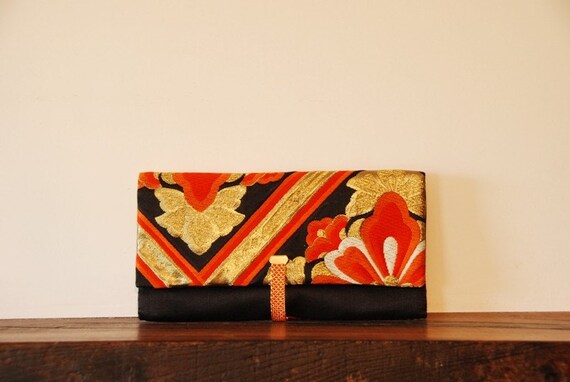 I have checked the prices at Melaine (a shop in Hong Kong) over and over again but 200 Euro are far more than I want to spent for this vintage Kimono clutch. Plus I have two obis in my wardrobe which I could use to make it. So this year I had to sew one!
So the project for March is this red Kimono clutch:
I simply made it out of three rectangular pieces of Kimono fabric (I used the whole width of an obi). The two outer pieces got interfacing as backing and the middle piece was turned into a zipper pocket with bias tape used for the hems. I used a very narrow zig-zag stitch to close the left and right seam of the outer and inner pocket as it already had a nice clean edge because it was an obi. The upper seams were closed before that step using a normal straight stitch. At last I assembled the whole clutch and stitched the side seams together using a straight stitch. I am still considering whether I should use a button or similar to properly close it but it also falls nicely in place after I have treated it with my steamer. So maybe I just leave it as simple as it its.